Marge, my oldest sister, drove to Gadsden, Alabama, picked up our niece and nephew — Pam and Frank Stith — and took them back to Montgomery, where she lived, for a weekend visit. Pam was about 3, Frank was about 6.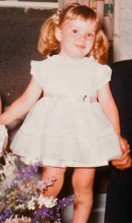 At that time Marge was Secretary of Baptist Young People in Alabama and, of course, on Sunday, she planned to take them to her church, a big, fine, downtown Baptist church.
Pam and Frank and their Mom and Dad, Mary and John, were also Baptists but they attended a small country church on Lookout Mountain, built out of wood and painted white.
That Sunday morning, as Marge combed Pam's hair and helped her get dressed, my sister bragged a little — her church had stained glass windows and an elevator, she said.
Pam replied: "We have God in our church."
Coming Monday: Payback!