I don't remember what my brother, Pop, had done to me. Kicked me out of bed on a winter night, probably. Pop, Brother Dave and I slept in double bed in the "boys room" at our farm near Gadsden, Alabama, and sometimes Pop made me sleep on the floor. He was eight years older, so there wasn't much I could do about it.
Or was there?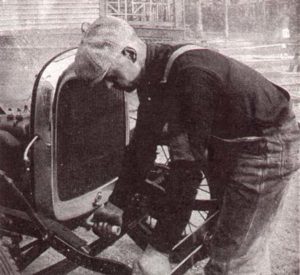 Pop had an old car — and I do mean old. I don't remember the make or model, but I do remember he started it with a hand crank.
I decided to put nails under all four tires, back and front, so no matter which way he went all four tires would be punctured. And then I got to thinking about it and decided that would be too obvious. I'd get caught.
So I picked one tire. I propped nails against the front and back of the tire and covered them with dirt.
It worked. Payback! And he never suspected a thing.
Coming Friday: The Audit