The officer in charge of the Executive Division on the USS Los Angeles was a mustang, a commissioned officer who began his career as an enlisted man, and he was as drunk as could be.
His last name was Lemorande. His first name, at least as far as I was concerned, was Lieutenant. He was a good officer.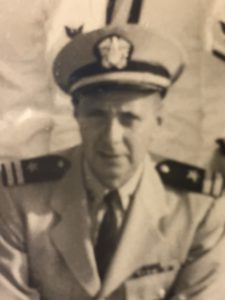 It was close to midnight when he stumbled into the compartment where JO3 Gary Greve, my boss, and I were hanging out, drinking coffee, smoking Crook cigars, and listening to the sweet sound of the Percy Faith Orchestra.
The lieutenant joined us. For a little while, at least, it seemed like he wanted to be an enlisted man again. He told us he wanted some ice cream and didn't we want some too?
Well, sure, we said. But there was no way for us to get ice cream. The enlisted men's mess deck was closed.
The officers have ice cream, Lt. Lemorande said. Let's go get some.
Enlisted men were not allowed to wander in officer country, but Lt. Lemorande ordered us to follow him, so we did.
Their wardroom was closed too, of course. But there was a hole in a half door through which food was passed out of the galley and Lt. Lemorande, in full uniform, wiggled through it. He found bowls, silverware — and ice cream — and soon the three of us were on our way back to our compartment.
The ice cream was good but now Gary and I had a problem. What were we supposed to do with the spoons and bowls, which obviously belonged to the officers' mess?
The lieutenant looked at me like I was an idiot.
"Throw them overboard!" he said.
And we did.
Coming Monday: Calm Down, Pat.