"It's a good life if you don't weaken."
I had used that expression all my life without having any idea where it came from.
Then, a few years ago, I visited one of my nephews, Steve Lambert, who lives in Robbinsdale, MN, near Minneapolis. And he gave me a copy of a letter my Dad had written to my mother, Alice May Cameron, who had taken the children from North Birmingham, AL, and gone home, to San Francisco.
The letter, which must have been written in 1928 or 1929, showed me where I had learned that line, from my Dad.  Just above Dad's signature he had written:  "It's a great life if you don't weaken."
[Oh, I know.  I say "good" life; he said "great" life; but that's close enough to my way of thinking.]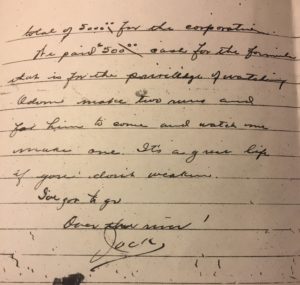 [Wait a minute. Why had my Mother gone back to San Francisco, where she met and married Dad?  And how did Steve get that letter?]
[My mother left him because the family was "destitute," according to Brother John.   Sister Marge, the oldest of what grew to seven brothers and sisters by my Mother, told me that in the 1920's, when she was a young girl, they lived for a while in Coalburg, a coal mining town near Birmingham.  Marge said there were holes in the walls of their house "big enough to throw a cat through."
[Marge must have gotten hold of "don't weaken" letter after Mother died in 1947. When Marge died in 2009 my sister, Alene, who also lived in Charlotte and looked after Marge, got it and gave it to her oldest son, who collects such things. Good place for it too. Steve cares for all things old.]
Where did Dad pick up that line? Ah, thank you Internet.
That phrase is the invention of Eugene Francis Byrnes whose cartoon, "It's a Great Life If you Don't Weaken," was syndicated by the New York Evening Telegram from 1915 to 1919. It became a rallying cry of the American Army during World War I, the internet story said.
Dad was in the Army during in WWI.
His "Transcript from Record of Service" shows he sailed from the United States on Oct. 28, 1918, bound for France. And, on the day he arrived, Germany surrendered, on Nov. 11, 1918.
Dad told us kids that Kaiser Wilhelm II gave up when he heard Dad had landed.
NOTE: There was a hit song from that period called "It's a Great Life (If You Don't Weaken)" but, apparently, it was not recorded until 1930. According to Brother John, my Mother and her then three children returned to Alabama by train in November 1929.  In a family history John wrote about 30 years ago, he said Dad met them in Attalla, AL,  in an orange panel truck and took them to their new home, which he had built, at 1023 Hoke Street, Gadsden, Al.
Coming Friday: The Truck Technician