In the early 1950s my Dad went broke.
I'm not sure why, exactly. He was a coal mine owner and the price of coal dropped some, but enough to wipe him out?  I guess so. We talked about that one time and he told me it got to where he couldn't sell coal for what it cost to uncover it, much less load it and haul it anywhere.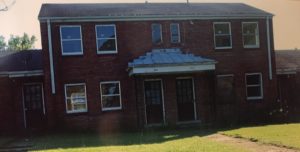 Except for his half-interest in Dixie Dew Syrup, which he hung on to somehow, Dad lost everything. He sold his 102-acre farm outside Gadsden, AL, in the summer of 1951. And by the spring of 1953 his strip mining equipment — dragline, caterpillar, endloader, trucks–were gone, sold or repossessed.  He also had been forced to sell the mineral rights to what he told me was 1,000 acres of waist deep coal.
After he sold the farm we continued to live there for almost six months, paying rent, before moving to town, to a two-story apartment in East Gadsden, 1611 Litchfield Ave.  It just before Christmas, 1951.  I was halfway through the fourth grade.
Brother Dave and I both got paper routes, delivering The Gadsden Times, a seven-day-a-week newspaper.  It was an afternoon paper except for Sunday, which we delivered before breakfast. He had the Starnes Park Housing Project, I had Litchfield Apartments, where we lived.
I was 10 years old, in the fifth grade, when Momma asked for my paper route money to buy food.  Nobody knew that, but I couldn't conceal the fact that I had to wear a girl's coat to school.
On a girl's coat, the buttons are on the wrong side.
Coming Friday: The Scar