Rob Waters, Wade Rawlins and I were on a short backpacking trip, hiking north on the Appalachian Trail, when we came across a "trail letter," a message on paper sealed in plastic to protect it from rain, addressed to "Sallylicious."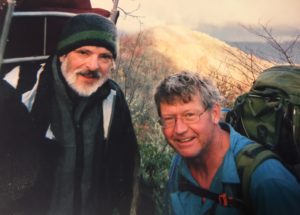 The letter was laying on the trail, held in place by a rock. It was short and sweet, telling her what shelter her hiking friends were staying at that night and that they hoped to see her.
As we continued our hike we speculated on what a woman called "Sallylicious" — that was her trail name — looked like. She must be, in a word, gorgeous.   We knew she was hiking south so we hoped we were about to find out, that we would meet her on the trail. And, in a few minutes, we did.
She was young but she was not beautiful.
I think about Sallylicious every now and then. Guys meeting her for the first time would not call her that. They might not call at all. But after spending months on the trail with her, hiking from Maine to the North Carolina mountains en route to Georgia, these guys had come to know her, her character, her personality, the considerable mental and physical strength she had shown on that 2,000 mile journey.
And she was "Sallylicious."
Coming Monday: A Solder's Letters To His Wife