Years ago, back when you could buy a beach front house for, say, $300,000, Donna and I went shopping.
We couldn't afford to pay anywhere near that much, of course, but I thought maybe we could buy something modest two or three rows back from the beach.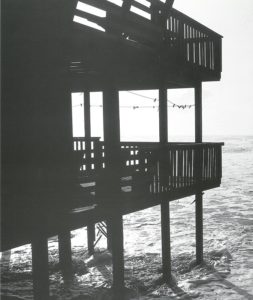 But Donna would rather have a shack on the ocean front than a mansion anywhere else so she kept looking for something that we might be able to afford.
One afternoon, when she returned from a house hunting trip, she told me she had found a front row house she wanted me to see.
"How much do they want for it?" I asked.
"$100,000," Donna said.
"How far is it from the water, Donna."
"At high tide or low tide?" she asked.
Postscript: At high tide the ocean was under the house.
Friday: Get Out and Stay Out!