My great grandfather, William Hume Stith, had a stroke that left him partially paralyzed and unable to work. Two years later, in 1900, he killed himself.
In those days newspapers didn't publish obituaries. The only way dead people got their got their name in the paper was to get killed or die in some interesting way — or place.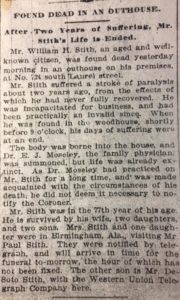 Nowadays newspapers are always on the lookout for what newspaper men and women call a "Hey, Martha!" story, a story everyone will want to read, to put on the front page, especially on Sundays. Apparently newspapers then were no different. Those mean old newspapermen made my great-grandfather a "reader" on a Sunday.
The headline, on page one of the Richmond paper, said: "Found Dead In An Outhouse."
Coming Friday: Hgielar